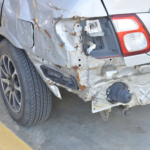 Being the victim of a car crash can leave you devastated and afraid. It is a time of fear and uncertainty. You certainly didn't ask for this.
Maybe you can't work. You might have children or a parent to take care of. You're afraid and unsure of the future. You might even find yourself on the defensive, trying to fight the insurance companies to pay your medical bills, or arguing with the driver who hurt you about who was at fault.
What We Do
We represent good people who suffer injuries in vehicle accidents, and their families. If you are the victim of someone else's speeding, drunk driving, distracted driving or other traffic law violation, they might owe you significantly for your damages. We have a skilled and experienced team that knows how to ask the right questions and present your case in court.
The End Result
Our mission is to help you receive fair compensation for your injuries and suffering. You likely have significant medical bills. These bills might continue for a long time into the future. We want to give you peace of mind. We want to help you get the compensation you need in the short term as well as make a financial plan for the long term.
No doubt, you also have pain and suffering. You're probably hurting emotionally as well as physically. We explore every avenue to help you receive the just compensation from insurance companies and other drivers that you need, for all of these things. Expect us to ask lots of questions about your injuries, your lost work and your pain and suffering. We're not afraid of difficult cases, and we work tirelessly on your behalf.
Why hire an attorney?
When something serious happens, like an auto accident, a lot of important things need to happen so that you get the compensation that you deserve. These things can include preserving evidence, collecting witness statements and documenting medical expenses, just to name a few. There's a lot of work to be done before you ever even arrive in a courtroom. When you get to court, it is a stressful situation, and it's critical to have a professional on your side.
If you don't work with an experienced car accident lawyer Philadelphia based, you might not know what questions to ask. Missing even a single step can devastate your case. It's important to use the skills of an experienced attorney team to make sure that you prepare your case thoroughly and then present it in court in the best possible light.
Why Hire Us
At Sokolove, Gross and Sagoskin, PC, we focus entirely on personal injury cases and other cases affecting fair compensation, like worker's compensation and disability payments. In our more than three decades of experience, we've seen it all. We don't just know the laws, we've practiced day in and day out to hone our craft into confident legal services that you can rely on.
Our team of lawyers is tough in the courtroom. If your case needs to go to trial, we love trials. Sometimes, we're even able to get a great result before trial even begins. With over three decades in Philadelphia courtrooms, we're confident, courtroom professionals, and we know what to expect.
Behind the scenes, we make sure you understand what's happening in your case at each step of the way. We're approachable, and we explain things to you in plain words, so you can feel confident as your case moves through the court system. There's no question too small, and we know that it's important to make you feel comfortable as your case moves along.
Can I Afford It?
With us, the answer is always yes. We don't charge you for our services unless you win your case. We even help you by paying the court costs and other expenses up front. That means you have nothing to lose. We're that confident in our legal team and the services that we provide.
Some people worry about hiring a lawyer. It sounds scary. Rest assured we pride ourselves on integrity and handling your case with sensitivity.
We know that this is a difficult time in your life. When you work with us, you get honest information about your case and the timelines involved as it moves through the courts. With no upfront costs and an honest and transparent process, you can have the confidence that we work day in and day out to leave no stone unturned until we reach a result that's acceptable to you.
Call Us Today
Time is of the essence. It's important to contact someone quickly because there might be time limits for you to file your case. Take the first step and contact our offices for a free, no-obligation consultation. It's the first step to getting you on track to get the compensation you deserve.